Save over 20% on your 2021 Membership by Bringing a Buddy to Bear Creek!
Because Everything is Better WhenShared with a Friend!
Bring in a friend to purchase a new membership (not a member for the past 3 years) at Bear Creek when you renew your membership, and you EACH receive 20% OFF the 2020 rate for your 2021 Membership.
Valid November 1st – 7th/2020.
Enjoy all the perks of being a member at Bear Creek including…
15% OFF Pro Shop Soft Goods (regular price only)
· 10% discount on regular priced food items
-Happy Hour pricing on beverages
10% discount on hourly rate for playing in our NEW simulator
·  20% off  for 2021 Memberships at 2020 pricing
20% discount on regular green fee and cart rates to play at Morningview Park Golf Course
· 10% discount for Event Centre room rental for a private event or holiday party
PLUS, Join today and enjoy these complimentary gifts:
25-bucket driving Range punch card ($300 value)
4 guest green fee passes ($200 value)
4 free power cart rentals ($180 value)
Special order golf clubs at cost plus 10% plus shipping
A 60-minute Full swing Clinic with LPGA pro Rhona Law
Entered into a draw for a 2021 Power Cart Membership ($840.00 Value)
A GREAT year of Golf, Fun, and Friendship!
As an added bonus, you'll be entered into a drawing to win a 3 day, 2 night trip to Las Vegas including 2 for 1 airfare and $500 in casino benefits!
Don't forget, Bear Creek is the first to open, and the last to close.
That means, more golf for less!
ONLY 10 BUDDY MEMBERSHIPS LEFT!! Don't miss out on this great opportunity to save big!
To purchase your membership now, call 780-538-3393
Coming Soon to Bear Creek
Reserve your weekly day and time when you register for our 9 week Winter Simulator League, starting in January. 780-538-3393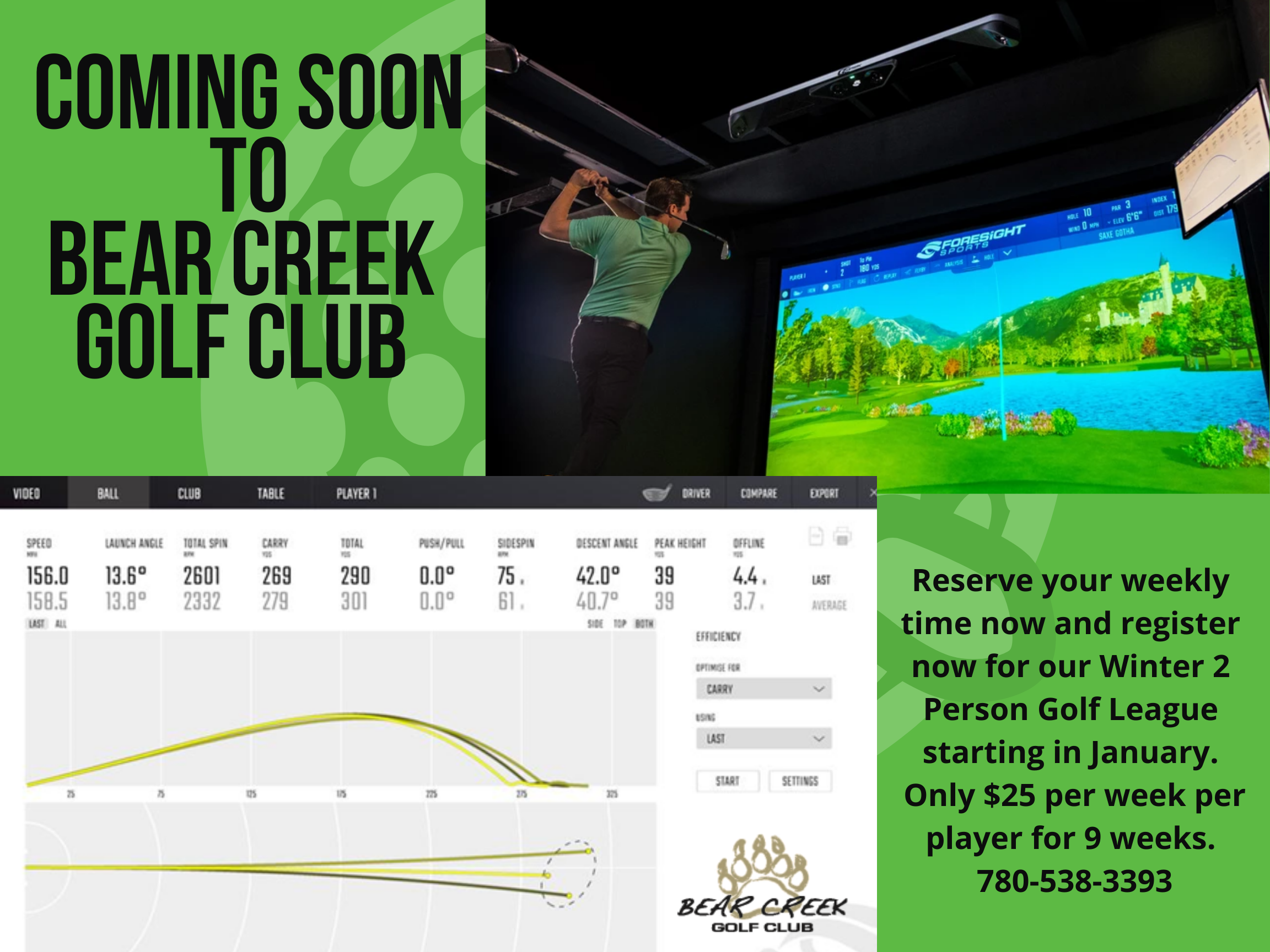 Available in any amount and may be used for
anything and everything for sale at Bear Creek!
buy a $150 gift card, get a free green fee!
READY FOR A ROUND?
TO BOOK A TEE TIME CALL +1 780-538-3393
OR